Tuesday, September 18, 2018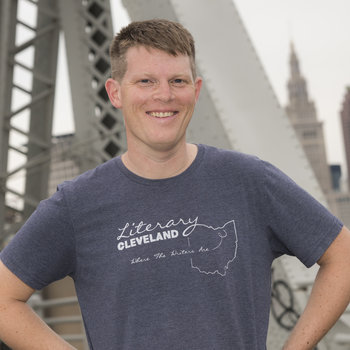 This month the Cleveland Public Library's
Ohio Center for the Book
interviews
Literary Cleveland
's own
Lee Chilcote
:
Tuesday, September 11, 2018
The
Wick Poetry Center
at Kent State University has announced their slate of events, readings, exhibits, and a creativity festival, starting this Thursday (!) with a
poetry reading at the Akron Art Museum
.
---
Wick Poetry Center Reading Series
2018-2019
We are excited to share this years'
reading series
with you below. Join us for a full slate of readings and events starting this week at the Akron Art Museum. From the Stan and Tom Wick Poetry Prize Reading honoring Michael McKee Green's new book with contest judge Khaled Mattawa to Celebrating Our Own and our 17th Annual Giving Voice, we hope you'll join us this year.
To open, we are inviting you to attend the first event of the Series:
Poetry Reading at the Akron Art Museum
this Thursday, September 13, at 6 pm.

POETRY READING WITH URBAN VISION STUDENTS AT THE AKRON ART MUSEUM
Date: 6:00 pm | Thursday, September 13, 2018
Location: Akron Art Museum 1 South High Street Akron, OH 44308
Poetry Reading with Wick Poetry Center and Urban Vision below the Nasser Al-Salem Arabi/Gharbi neon installation in the lobby of the Akron Art Museum. Stay and tour the exhibition FRONT: An American City after the reading.
Register for free here.
---

KENT CREATIVITY FESTIVAL
Date: 11:00 am - 5:00 pm | Saturday, September 29, 2018
Location: Lester A. Lefton Esplanade outside of the May Prentice House, Poetry Park
The Kent community invites you to join us for the annual Kent Creativity Festival! This will be an opportunity for people of all ages and skill levels to come together to create, share, and explore the creation of all kinds of art.
---

THE STAN AND TOM WICK POETRY PRIZE READING FEATURING KHALED MATTAWA + MICHAEL MCKEE GREEN
Date: 7:30 pm | Thursday, October 4, 2018
Location: Room 120, CAED
(College of Architecture and Environmental Design, 132 S Lincoln St, Kent, OH 44240)
A recipient of awards and grants from the Academy of American Poets and the Cabin Literary Center, Michael McKee Green is a 2018 artist in residence at the Boise Public Library at Bown Crossing. Poems of his appear in journals such as Michigan Quarterly Review, Tagvverk and Fog Machine, and his poem "In Remit" won the Burnam Poetry Scholarship (Judge, Ed Skoog). Currently, he is an MFA candidate at Boise State University, where he sits on Ahsahta Press' editorial board and teaches creative writing.
Khaled Mattawa was born in Benghazi, Libya, in 1964 and immigrated to the United States in his teens. His collections of poetry include Tocqueville (New Issues, 2010), Amorisco (Ausable, 2008), Zodiac of Echoes (Ausable, 2003), and Ismailia Eclipse (Sheep Meadow Press, 1995). He is also the author of Mahmoud Darwish: The Poet's Art and His Nation (Syracuse University Press, 2014). Mattawa has also translated many volumes of contemporary Arabic poetry and coedited two anthologies of Arab American literature. Mattawa is the 2010 recipient of the Academy of American Poets Fellowship. He has received a Guggenheim fellowship, a translation grant from the National Endowment for the Arts, the Alfred Hodder Fellowship from Princeton University, the PEN American Center Poetry Translation Prize, three Pushcart Prizes, and a MacArthur Fellowship. In 2014, Mattawa was elected a Chancellor of the Academy of American Poets. Currently, Mattawa teaches in the graduate creative writing program at the University of Michigan, Ann Arbor.
---
---

POETS + PAINTERS
Date: 6:00 - 8:30 pm | Friday, October 19, 2018
Location: Group Ten Gallery (201 E Erie St, Kent, OH 44240)
A collaboration of words and art between the artists of the Group Ten Gallery and the Wick Poetry Center.
---

CELEBRATING OUR OWN + OPEN MIC POETRY NIGHT
Date: 7:30 pm | Wednesday, October 24, 2018
Location: Room 306 ABC, Kent Student Center
Come to celebrate poetry with us by sharing your poems and discovering the new voices around you.
---

WORLD POETRY READING
Date: 7:30 pm | Wednesday, November 14, 2018
Location: Room 120, CAED (College of Architecture and Environmental Design, 132 S Lincoln St, Kent, OH 44240)
Kent State international students, staff and faculty members from different countries will share poems they love from their own cultures facilitating a global conversation through the intimate and inclusive voice of poetry.
---

TRAVELING STANZAS INTERACTIVE EXHIBIT
Date: January 24-February 24, 2019
Location: Taylor Hall
The 2018-2019 school year marks the 10th anniversary of our Traveling Stanzas project. What began as a collaboration between Kent State University's Wick Poetry Center and Professor Valora Renicker's Visual Communication Design students has evolved into a leading international poetry exhibit pioneering state-of-the-art digital tools. With Traveling Stanzas, the Wick Poetry Center is at the forefront of a national movement to pair technology with art as a means to increase access to creative expression, encouraging new voices in poetry and facilitating meaningful conversations in communities around the world. This year we are excited to feature the following Traveling Stanzas projects
---

GEORGE BILGERE POETRY READING — CO-SPONSORED BY NEOMFA
Date: 7:30 pm | Tuesday, February 19, 2019
Location: Room 306 ABC, Kent Student Center
George Bilgere's seventh collection of poetry, Blood Pages, was published by the University of Pittsburgh Press in 2018. He has given readings for the Library of Congress, the 92nd Street Y in New York, A Prairie Home Companion, and at schools and literary venues all over the country. He has received a Pushcart Prize, grants from the National Endowment for the Arts and the Ohio Arts Council, the Midland Authors Prize, the May Swenson Poetry Prize, and the Fulbright Foundation. Former U.S. Poet Laureate Billy Collins has called Bilgere's work "a welcome breath of fresh air in the house of American poetry." He teaches at John Carroll University in Cleveland.
---

KATE DANIELS POETRY READING— SPONSORED BY RALPH AND JUDY KLETZIEN
Date: 7:30 pm | Thursday, April 18, 2019
Location: Room 310, Kent Student Center
Kate Daniels was born in Richmond, Virginia. The first in her family to graduate from college, Daniels earned a BA and an MA from the University of Virginia and an MFA from Columbia University. She converted to Catholicism as an adult, and her often lengthy, narrative poems engage engages themes of working-class experience, family, trauma, racism, and Southern culture. Daniels has won the Hanes Award for Poetry from the Fellowship of Southern Writers, a Pushcart Prize, the Louisiana Literature Prize for Poetry, the James Dickey Prize, the Crazyhorse Prize for Poetry, and fellowships from the Lannan Foundation and Harvard University's Bunting Institute. Her work has been widely anthologized, including in Best American Poetry. She has taught at Bennington College, Louisiana State University, the University of Virginia, and Wake Forest University. Currently, she is a professor of English and Creative Writing at Vanderbilt University.
---

17TH ANNUAL GIVING VOICE
Date: 6:30 pm | Thursday, May 2, 2019
Location: Ballroom, Kent Student Center
The 17th annual performance of Giving Voice features local students (grades 3-12), Kent State University undergraduate students and international scholars performing original poetry. All material is created in Wick outreach programs, including workshops led by Kent State University undergraduates enrolled in the service-learning course "Teaching Poetry in the Schools."

All events are free and open to the public.
We hope to see you at the readings!
In peace and poetry,
David Hassler
Director
Wick Poetry Center
Friday, September 7, 2018
Cited...
The poet doesn't invent. He listens.

~

Jean Cocteau